Yes, pet rabbits can be cute, cuddly, balls of wonderful fun, but they are also fragile creatures that require care, quiet, and patience.
Many people have a stereotypical idea of how a pet rabbit will be.
They think it will be all soft and cuddly and will be an ideal pet for a small child.
However the reality is that they are not like this and they are not always a good idea to have as a child's pet – especially a very young child.
So lets have a look at some of the important points you should take into consideration if you are thinking of getting a rabbit as a children's pet.
How Large a Rabbit are You Going to Get?
This is important especially in relation to the age and size of your child.
You need to remember that rabbits do not naturally like being picked up and help.
This means that if your child picks up the pet and it feels threatened, scared, or nervous, then it will kick out or wriggle to escape.
A rabbits back legs can easily hurt a child, who may then drop the rabbit causing it serious injury.
The Temperament of Your Child Verses the Temperament of Your Rabbit
Children can be loud and boisterous and this is perfectly normal, however rabbits can be nervous, timid and can be easily frightened.
If your rabbit is afraid of your child they will not be able to form a bond.
Your Child's Responsibilities
You have to remember that your pet rabbit will be totally dependent on you for all its basic needs – food, water, shelter, a clean environment and ensuring it is fit and healthy.
It will also require a large degree of social interaction. If the rabbit is the child's pet, then the child needs to learn and understand the responsibilities of looking after it.
Time Constraints
Do you and your children have enough time to devote to your pet to ensure that you meet its needs.
Rabbits like routine, it makes them feel safe and secure.
A change to their routine can leave them feeling stressed and this can lead to stress related illnesses.
So it I important you have the time t follow and adhere to a routine with your pet.
Rabbits and Young Children
It is not recommended that a rabbit is given as a pet to a child younger than around 7 years old.
They are generally just too loud and boisterous for a rabbits liking and this will lead to the pet feeling stressed.
Also younger children like to pick up their pets.
Rabbits are essentially ground loving animals and generally do not like to be picked up.
A rabbits bones are quite weak and if they are dropped by a young child they can easily be seriously hurt.
Small Children and Pet Rabbits
Bunnies are, indeed, very soft and cute. However, pet rabbits aren't very cuddly creatures.
Rabbits rarely like to be held and can seriously injure themselves and a small child in an attempt to get away.
Rabbits are equipped with very sharp claws that can cause deep cuts on the body.
If your small child were to try and hold that rabbit when the rabbit doesn't want to be held, it can result in lacerations for your child and broken bones for your bunny.
Small children do not understand when something doesn't want attention.
Small children are loud and rambunctious; this isn't the kind of environment that a pet rabbit likes to be in.
In some cases, a pet rabbit can die of heart failure due to severe startling.
If your child were to sit quietly, your pet rabbit may actually hop over to see what the child is up to.
Rabbits like people, they just don't really trust what people do (this fact is true of some people, too).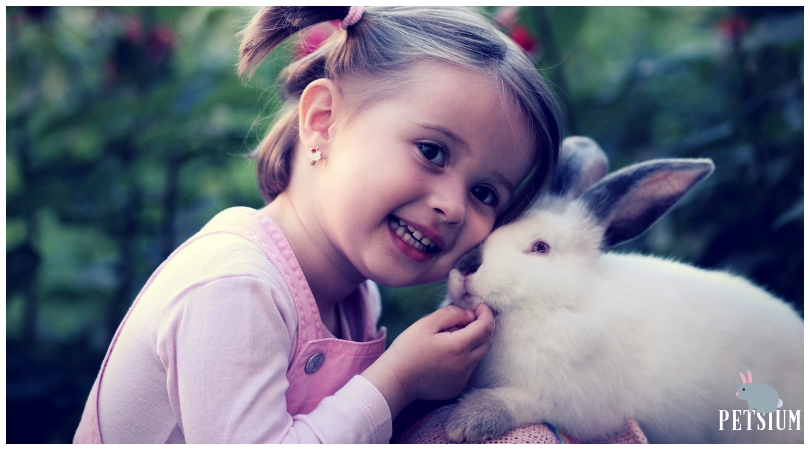 Despite what you may wish to think, small children and pet rabbits don't mix.
Once your child is older, you can offer him or her the opportunity to have a pet rabbit, but you must be sure that they are capable of taking care of something as skittish and fragile as a rabbit.
Rabbits need to be fed and watered daily.
The rabbit's cage needs to be cleaned at least twice a week, and your pet rabbit needs to be let out to roam once in a while.
Rabbits need to be watched over at all times. Rabbits are easily startled, threatened, and damaged.
Older Children and Pet Rabbits
Older children are ideal owners for rabbits.
If they feel like they are ready to take on the responsibility of caring for a rabbit (hopefully they have done some research into the care required for a rabbit), then get them one.
Older children have the perfect amount of energy required to take care of a rabbit on a consistent basis.
Just remember that if your child becomes lax in their pet rabbit duties, someone (most likely you) will have to step in and care for the rabbit.
Rabbits need food and water everyday just like any child.
Pet rabbits are great pets to have. They are gentle, quiet, and affectionate when given the chance.
If you have small children, please reconsider your intentions to purchase a rabbit for a family pet.
Pet rabbits should be savored by older children and adults.