When it comes to feeding, there are a few matters that are definitely worth mentioning in order to keep your hamster healthy.
Especially when you want to treat your hamster with something new like blueberries. So, let's see can hamsters eat blueberries?
Sure, we all melt away when we see a tiny hamster storing a lot of food in the cheek pockets, even though he has plenty of food everywhere.
But it's important to know exactly what to feed them and what not.
First of all, they need a diversified diet.
That is easy to do thanks to the plenty of options that you can find in pet shops.
However, apart from those, maybe you would like to feed him a little treat every now and then. How about blueberries? Are they suitable for hamsters?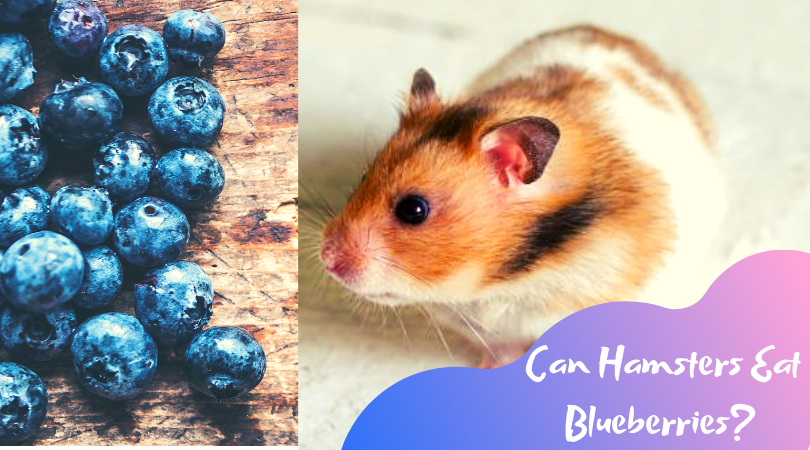 Can Hamsters Eat Blueberries or Not?
Yest they can eat blueberries, but…
Though hamsters are rodents and usually eat simple grains, every once in a while you can feed them with something else.
But be careful.
Grains, as well as seeds and nuts also help them sharpen their teeth.
This means that anything else should be given to them only in little quantities.
Let's take blueberries for example.
They bring along so many health advantages for us.
They are packed with antioxidants and are nature's biggest weapons to have a strong immune system.
Blueberries are safe for hamsters and even recommended. The adorable hamster will find them delicious and it will be delight to see him eating them too.
How Many Blueberries Can a Hamster Eat?
Still, even though blueberries aren't as sweet as other fruits, they do contain certain amounts of sugar.
This isn't beneficial for a hamster.
One or two blueberries are totally fine.
But don't go over the limit and don't give your hamster more than that.
More blueberries can upset his stomach and lead to gastrointestinal distress, which might force you to take him to the vet.
It's easy to avoid this by sticking mostly to grains and 1-2 blueberries occasionally.
Only feed him raw blueberries and make sure they are fresh.
They shouldn't either be too ripe or too green.
Can Hamsters Eat Frozen Blueberries?
Stick to fresh ones and don't feed him frozen blueberries.
Those ones contain way too much ice and water.
No type of frozen product is suitable for a hamster, not even carrots.
If you want to spice things up and give him something else, never look in the freezer.
Don't go for processed products such as jams or anything else of the sort.
This is very important to remember.
Those ones include massive amounts of sugar, which can affect the hamster's stomach.
Not to mention that they will be too liquid.
Even if a hamster can eat things that aren't very hard, the food should have a certain firmness so that he can eat it properly.
Jellies are certainly not one of the foods that you can safely give to the little friend.
What Kind of Fruit Can Hamsters Eat?
This actually applies to any other fruit that is ok for hamsters such as apples or strawberries.
Never feed your hamster with citrus fruits as they are way too acidic for his body.
Even with the antioxidant rich blueberries that also bring along health benefits for hamsters, limit the amount even if the little one seems to really enjoy them.
As the hamster is a pet whose main diet consists in something totally different, it's highly recommended to give him only the highest quality food, especially when it comes to exceptions.
The treats should be just right. Be highly critical here.
Conclusion
Even if hamsters can eat blueberries, caution is advised.
Always pay attention how much you give him and stick to his regular diet.
Also, don't mix various types of fruits.
Blueberries or any other types of fruits should only be given separately.
Never feed a hamster only fruit the whole day as they need other nutrient requirements too.
Hamsters are great pets for people of all ages.
They are mostly preferred by children and these little cute rodents can help a child learn more about caring about others.
Also people who live in apartments or who have a busy working life choose hamsters as pets because they are pretty low maintenance.