Persian cat breeds are known for their beautiful hair, adorable look, and exquisite personality. This breed of cat is an ancient breed and originated from the middle east. Over the years, Persian cat breeds were preferred and loved by many people worldwide, especially in the US. The cats are medium sized and normally weigh between 8 and 12 pounds and have a life-span of up to 15 years.
This captivating and precious cat breed is known for its adorable and innocent look. Children and babies normally interact with this adorable cat breed, due to the friendly nature they possess. Whether cuddling, petting or having elegant princess tea parties, children find Persian cat breeds fascinating. Not only do they capture the interest of children, but they really entice guests also. If a friend or relative drops by, this cat breed seems to enchant that individual with the appealing charm that they possess.
Majority of Persian cats carry an aura around with them. Their personality is much more of a sophisticated, dignified and graceful one. They would rather be in a soft, quiet and peaceful environment with little or no noise at all. There will be no need to worry about this breed of cat climbing drapery, trying to snatch fishes from your aquarium or stealing food from your counters. This breed will rather be calm and composed, while it remains in its territory.
The procedure of caring for a Persian cat is not hard but does require self-discipline. The long hair of a Persian cat needs adequate combing and brushing, in order to keep the hair from tangling up. Brushing and combing every day is prescribed to keep the hair clean and straight. Bathing this type of cat breed is also another requisite.
Sometimes dirt gets caught up in the hair and it may discolor it, Persian cats should have a bath at least twice a month so that they will look clean and fresh at all times. The teeth should be brushed regularly so that dental complications and diseases will not occur.
Another key factor in caring for Persian cats is keeping the litter box clean at all times. As noted above, Persians cats walk with an aura, that also includes good hygiene. If the litter box is too dirty it will only force the cat to reject it and seek for another way to empty their waste, which you really want to avoid.
Taking care of a Persian Cat
The Persian cat has luxuriously long fur and therefore it is necessary to properly maintain her coat. You do this by brushing the cat's fur daily if possible and from an early age. It would also help if you can do this routinely before mealtime to help the cat associate the brushing with something she enjoys, that is, getting food.
When brushing the cat's fur, it is best to use a metal comb with two edges: one that has teeth with narrow spaces and the other edge with teeth widely spaced because it will allow you to properly detangle the cat's fur. A slicker-type brush can is the best to get rid of fur with a tendency to get tangled up.How you comb the fur is also very important.
It is recommended that you separate the fur with the widely spaced teeth so you can brush out the loose knots and ease the process of detangling the knots. It is also necessary to comb the tangled hairs from the root to the tip of the hair as it is considered the best way of brushing the cat's fur as opposed to just combing the top of the cat's coat.
In addition, you are advised to work in sections as you brush and progress from the head down to the tail as this helps to get rid of loose hairs. And then after clearing the fur that has been removed by the comb, it is advised that you go over the fur a second time with the widely spaced teeth edge, and the last step is brushing your cat's coat of fur with the narrow-toothed edge of the comb.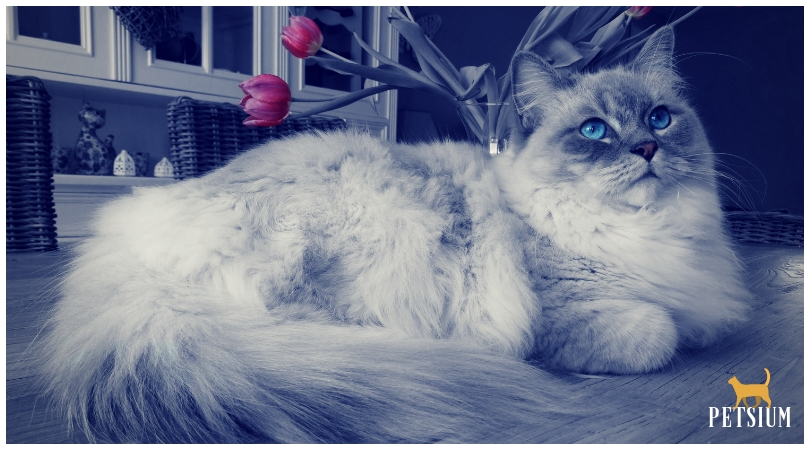 The reason why these tips are recommended is that tangled fur can form clumps which pull the cat's skin, making her feel unpleasant or it can increase skin infections because the matted fur makes it harder for the cat to wipe the skin which is under the far that has gotten tangled up. In the case that you cannot handle your cat's tangled fur, you are advised to seek to find a groomer who is professionally trained and recognized.
Persian cats are brachycephalic meaning that respiratory chambers are foreshortened in relation to other cats so the Persians are predisposed to respiratory infections. So to keep respiratory problems away from your Persian, it is recommended that you get the cat vaccinated regularly. In addition, it is necessary to keep the cat's nose clean using a warm or wet cloth. You can wipe it once daily and whenever the nose looks even slightly blocked.
Persian's shortened noses also make their tear ducts kinked and this means that the ducts are not able to effectively allow tear fluid to drain away. This can irritate the cat's eyes so it is advised that you wipe away your cat's excess tears with a towel once daily and whenever you notice any wetness under her eyes. However, be careful not to clean the eye to avoid eye infections.