Are you looking for guinea pig names? It's unknown whether guinea pigs or cavies name themselves. However, humans need to name their pet guinea pigs in order to keep them apart. Here is a list of top unique guinea pig names to get you inspired in your quest.
They certainly remember and recognize individual guinea pigs.
Some pet owners argue that guinea pigs do not respond to their names, but just as many pet guinea pig owners swear that their guinea pigs recognize their own names.
Before you can ponder whether your guinea pig recognizes its own name, you need to come up with a name for your cavy. There are many different ways to choose just the right name for your guinea pig. You can choose a name based on the guinea pig's color, what any special markings look like or any peculiar sounds the pet makes. Here are some pointers for great unique guinea pig names:
Learn about its characteristic, traits and activities so that you can choose from the most appropriate guinea pig names.
Look for some distinctive physical features in your guinea pig.
Note the color of its coat or any unusual marks on its body.
People names used as guinea pig names are also very common.
Choose guinea pig names from television shows or cartoons. You can't go wrong with Disney names.
Here are some suggestions to help you choose great names for guinea pigs.
Each name will surely spark even more ideas!
Top Guinea Pig Names
| | | |
| --- | --- | --- |
| Fudge | Sam | Harry |
| Ellie | Holly | Whisky |
| Barney | Muffin | Ruffles |
| Spike | Oreo | Snickers |
| Miss Piggy | Lady | Squeakers |
Unique Guinea Pig Names
For all unique guineas out there, here are some unique guinea pig names for inspiration.
Clutch
Fork
Taurun
Titan
PV
PP
GG
Diem
Azulo
Dogan
Elera
Zinc
Kalist
Safir
Dante
Guinea Pig Names For Pairs
If you got a pair of guinea pigs, you might want to name them with some combinations of names that go together. Think about:
Fred & Wilma
Bonnie & Clyde
Bert & Ernie
Sonnie & Cher
Mickey & Minnie
Romeo & Juliet
Dumb & Dumber
Batman & Robin
Lone Ranger & Tonto
Laurel & Hardy
Fred & Barney
Hansel & Gretel
Honey & Oats
Adam & Eve
Ozzie & Harriet
Girl Guinea Pig Names
Girls are usually more calm and quiet than males.
They can still respond to names but they mostly prefer to sit and wait for anything to happen before they take action.
You can name the guinea pig after someone important in your life. The most famous guinea pig in children's literature is a female Abyssinian guinea pig named Olga da Polga. Other female guinea pigs in books include Hazel, Minnie Pig and Fluffy.
We have selected the best unique girl guinea pig names picks in a easy list.
Chloe
Copper
Crimson
Hazel
Tinkerbell
Tequila
Minnie Pig
Xena
Ginger
Fluffy
Buffy
Buttercup
Clementine
Fluffy
Chichi
Lily
Kiki
Annie
DeeDee
You might also like Girl Hamster Names. Those names could very well suit guinea pigs as well.
Male Guinea Pig Names
Male guinea pig names come from a wide variety of sources. If the guinea pig was a present or a rescue, you can name the pet after the gift giver or the animal shelter worker who helped take care of the cavy. You can also name the guinea pig after your favorite movie star, musician, actor or other celebrity.
Males (just like with humans) are more hormone driven, impulsive and overall more active then the females.
They can be playful, adventurous and outgoing. They seem to respond to high-pitch sounds just like females but with more responsiveness!
Here comes our top unique male guinea pig names list.
Coco
Ruby
Olly
Lokki
Punky
Herbie
Napoleon
Biscuit
Gremlin
Tigger
Smokey
Paddy
Alf
Apollo
George
Maverick
Furball
Check out our full list of male Guinea pig names.
Guinea Pig Names Based on Their Color
Here you might choose unique guinea pig names that are related to guinea pig colors:
Whitey
Fall
Winter
Summer
Amber
Cranberry
Hazel
Oreo
Orange
Rusty
Chocolate
Goldy
Blondie
Brown Guinea Pig Names
If you got a brown guinea pig here are some awesome brown names for guinea pigs.
Brownie
Cocoa
Chocolate
Tanner
Mudpie
Gravy
Coffee
Latte
Digger
Dusty
Wheaties
Bronze
Caramel
Hershey
Maple
Bear
Bark
White Guinea Pig Names
If your guinea pig has white coat pick one of these white guinea pig names:
Snowball
Snow
Snowman
Marshmallow
Ivory
Ice
Cloud
Purity
Iceberg
Fluffy
Black Guinea Pig Names
In case your guinea pig has black fur, these black guinea pig names could be a good choice:
Blackie
Blacky
Midnight
Smoke
Sable
Ashes
Eclipse
Space
Star
Charcoal
Licorice
Black Jack
Nightso
Guinea Pig Names Based on Fruit
Using fruit names as guinea pig names is a great idea and these names will sound so cute and unique. These could include:
Apple
Abiu – comes from their native South America
Blueberry
Jujube
Citrus
Cranberry
Kiwano
Guava
Apricot
Cherry
Fig
Lemon
Kiwi
Noni
Strawberry
Mango
Peach
Coconut
Avocado
Badass Guinea Pig Names
Ironic badass guinea pig names for your tough and mad guinea pigs.
Mace
Butch
Hulk
Avalanche
Jupiter
Mountain
Titan
Jaws
Savage
Centaur
Morfeus
Storm
Cleopatra
Amphitrite
Gaia
Sphinx
If you are looking specifically for tough and strong names for guinea pigs, you could check out these badass dog names for more inspiration.
Funny Guinea Pig Names
Guinea pigs are funny little creatures. Accordingly, here is a list of unique funny guinea pig names
Hairy Poppins
Hairy Potter
Oprahwindfurry
Klingon
Chewy
Pigzilla
G.I. Joe
Hot Wheels
Chubaka
Names For Guinea Pigs Based on Food and Drinks
As long as we are on an edible theme, many guinea pigs are named after foods and drinks.
You might want to try one of these unique food names for guinea pigs:
Caramel
Hot Dog
Custard
Cola
Chocolate
Barley
Pizza
Bacon
Biscuit
Popcorn
Tea Bag
Big Mac
Crackers
Cookie
Onion
Pepper
Nutmeg
Dough
Cracker
Trix
Gingerbread
Fudge
Pork Chop
Honey
Marshmallow
Soup
Jellybean
Pancake
Peanut
Milk Dud
Snickers
Ginger
Pudding
Sugar
Truffles
Olive
Chips
Toffee
Lamb
Coffee
Flapjack
Sandwich
Lemonade
Stew
Peanut
Bread
Jello
Pie
Oatmeal
Yam
Cute Guinea Pig Names
As cuddly and cute guinea pigs are, here are cute names for guinea pigs for both boys and girls.
Dot
Olive
Thumbelina
Pebbles
Popcorn
Tic Tac
Spot
Lollipop
Pluto
Peanut
Inch
Flake
Zippo
Disney Guinea Pig Names
When we hear Disney we almost instantly think of something magical, beautiful and colorful. Disney names are always a good match for pets and in this case Disney guinea pig names would sound great.
Woody
Simba
Mowgli
Aladdin
Bolt
Goofy
Micky
Jaq
Gus
Bert
Mert
Luke
Mary
Suzy
Perla
Grumpy
Happy
Sleepy
Sneezy
Tubby
Baldy
Shorty
Sniffy
Nifty
Burpy
Snow White
Mini
Ariel
Nala
Aurora
Kiara
Esmerelda
If you are still looking for Disney names you could check these 101 Dalmatian Names as well. They would sound great for guinea pigs.
G-Force Guinea Pig Names
G-Force is the first Disney movie where guinea pigs are the stars. Here are all the G Force guinea pig names from the movie.
Darwin
Blaster
Juarez
Rookie / Hurley
Speckles
Bucky
Mooch
Names For Guinea Pigs from TV
If you watch a lot of TV, you might want to choose guinea pig names from TV characters.
The infamous British guinea pig Sooty, for example, made headlines for escaping from his pen and in just one weekend impregnated over 24 females. GP was the guinea pig in the popular kids' television show Tales of the Riverbank.
Some of the most used are:
Sooty
GP
Fonzie
Columbo
Snoopy
Gilligan
Winnie the Pooh
Carter
John Boy
Crockett
Elmo
Lone Ranger
Homer Simpson
Tarzan
Mickey
Frasier
Maude
JR
Spock
Oprah
Roxanne
Nerdy Guinea Pig Names
For all techy guinea pigs out there, here are some geeky guinea pig names for nerdy cavies.
Alt
Meta
Ctrtl
Shift
PC
Mac
Apple
iPhone
Chip
PS3
PS4
PS5
xBox
Nintendo
Guinea Pig Names Based on Presidents and First Ladies
If you want an official sounding name for your guinea pig, see what you think of presidents:
Clinton
Ford
Kennedy
Nixon
Madison
Eisenhower
Truman
Roosevelt
Washington
Lincoln
Fillmore
Harrison
Cleveland
Coolidge
Harding
If you have a female guinea pig, check out the names of some First Ladies:
Abigail
Hillary
Anna
Caroline
Dolly
Elizabeth
Florence
Eleanor
Julia
Jane
Sarah
Laura
Thelma
Barbara
Lucy
Jane
Tips on choosing Guinea Pig Names
People name their pets, including guinea pigs, for many different reasons. Sometimes it is based on the color or the breed of the guinea pig.
How to Find the Best Guinea Pig Names?
We will give you the right guinea pig names… but do you know enough about your cavy to pick a name?
Guinea pigs are those tiny cuddly, comical and usually food-smart rodents everybody loves.
They make wonderful pets and they are very social creatures.
For this very reason they do much better in pairs or groups rather then being alone.
Being that small and cute does not mean guinea pigs are hard to notice, they can be very loud if they want to.
Their squeaky voice can be heard all over the house when they get excited!
The average life span of guinea pigs is 4 to 7 years, some breeds have shorter lifespan then others.
Guinea pigs are cheap and fairly easy to maintain.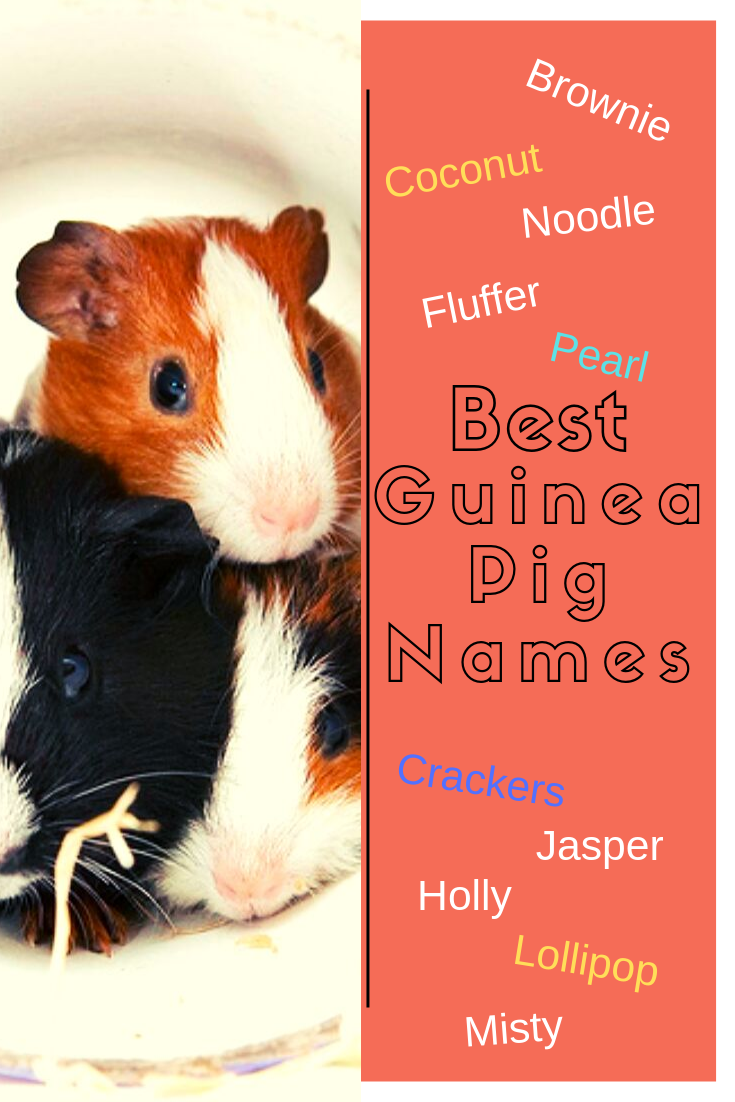 What Guinea Pig Names are Suitable for My Pet?
Before you even start looking for a name we need to explain to you how guinea pigs respond sounds.
Some people say that guinea pigs don't respond to names at all, this is not true!
Just like cats, guinea pigs respond to high-pitch sounds!
If you know any cat owners you can test this out in a very simple way.
By just saying "pssst pssst" to a cat it usually draws their attention because they are always alert on high frequency sounds.
It is also important to include a vowel letter within the name to ensure a high-pitch can be pronounced at will.
A name like "Mimi" is considered suitable because the "i" can be pronounced at high-pitch, a name like "Robert" makes a whole different case and is considered unsuitable.
What Gender is Your Guinea Pig?
Before choosing a name you must determine the gender.
Most people already know the gender on purchase but some of you might not!
Male guinea pigs are called boars, and females are sows.
To verify the gender simply look at the genital area of the pig, males usually have a donuts-shape around their rectum where their testicles are.
A tiny penis is usually visible on pulling the shaft with your finger.
Once you have picked out your female, male or both guinea pigs and taken him home, you can start the process of going through guinea pig names and picking out the one you like best.
You can buy books of pet names, search the internet for guinea pig names, or ask your friends and family what they think might be some good names.
It is always fun for kids to pick out guinea pig names too.
Use the list above to spark hundreds of more ideas. Brainstorm with your family and write each one down.
You will be surprised how quickly you can come up with quite a few excellent names to choose from!
Guinea Pig Names Video