So, if you have a friend who is a cat lover, you can rest assured that the person will be very glad if you give them a present for his or her cat.
There is a great variety of choices when you are looking for a gift for a cat lover. But cats are very choosy and fussy animals. So the lovely little creature may or may not like your gift.
That is why a gift for a cat lover should be something which is useful to the cat and at the same time flatters the owner's taste. Obviously it is not possible to predict what that particular cat will like.
Colorful Balls Toys for Cat
Cats like small colorful balls. There are several plastic balls available in the market which they really enjoy. Cats are jolly and playful, so a ball is a safe gift which a cat shall almost surely enjoy.
Feathers Toys for Cat
Feathers are also a favorite thing for cats. There are several different types of feather toys made with non-toxic material which can be a good gift item for cat lovers.
Mouse Plastic Toys for Cat
We all know that a mouse is cat's favorite prey. There are a lot of mouse-like plastic toys. Cats are normally delighted with these, and immensely enjoy chasing them around in a playful way.
Cat Litter as Gift
An eco-friendly cat litter which destroys the strong odor of urine etc. is a useful gift for the owner. You also make a gift catnip of or its alternative, honeysuckle, both of which are good gift ideas.
Scratching Posts for Cat
Cats always like to scratch their claws against whatever scratchable surface they can lay their paws upon. This causes havoc and destruction among the cat lover's furniture. So a number of cat gift items have appeared in the market which address this problem.
The basic idea is to provide the cat with something that is durable and scratchable, and thus (hopefully) relieve the expensive upholstery and woodwork in the cat lover's house. Scratching posts are a popular item in this category of cat lover gifts.
Grooming Tools for Cat
Well-groomed cats have beautiful coats. Regular grooming is an essential thing for a cat's well-being. So combs, brushes and clippers are useful presents which will delight the cat lover who takes pleasure in taking care of his/her cat.
Photo, Video Album or Greetings Cards for Cat
You can also give him a photo album personalized with that pet's snapshots, which is an easy idea to implement if you have a digital camera. Customize the collection with the pet's name to make it more appealing. Also you can give a good cat video album featuring the pet's antics which the owner will surely enjoy. Send free cat post cards through e-mail. You also can send beautiful birthday greetings cards on the cat's birthday.
Treat Jar for Cat Owner
Nowadays cats are used to eating processed food. So consider gifting a kitty treat jar where the cat lover can keep the pet's food. Porcelain jars are safe and a popular choice for this purpose. Hand painted stoneware sushi bowls are also a good gift item. Cats are fond of fish, so canned salmon is also very good idea as a gift for cat lovers.
Mugs or Bracelets for Cat Owner
There are mugs available which can be customized with the phrase "cat lover" or the actual name of the particular pet, and cat owners are always overjoyed to receive this as a gift. Also consider ornamental bracelets engraved with the name of the cat in beautiful orthographic or calligraphic lettering.
Let's Take a Look at Unique Gifts for Cat Lovers
Cat gifts are perfect for Anniversary, Birthday, Christmas or anytime of year for cat lovers! These unique cat gifts will make any day a holiday for cat lovers. People who love cats appreciate seeing a beautiful feline on gift items.
Cat Lover Throw Blanket
Reversible super soft cat printed flannel fleece on one side, plush super warm polyester sherpa on the inside. Machine washable and shrinking, fading, wrinkling resistant (50 x 60 inches).
---
Over the Door Hook Hanger
Heavy duty, each hook holds up to 16Lbs; Fits door up to 1.77 inches.
---
Asmwo Cute 3D Cat Shape Mug with Stirring Spoon and Lid
There are four kinds of cat cups. They have rich expressions, like smiling or contemptuous, cute. The capacity of the cup is 400 ml.
---
Skafil Ceramic Cat Coffee Mug 17 Oz
Wouldn't your favorite cat lover enjoy having their morning cup of coffee, or tea? Ceramic Handmade Cat mug sculpted with adorable cat ears and a cute playful gold cat-face design that features whiskers, eyes and a cute button nose.
---
Blingmate Cat Shape Metal Wire Earring Holder
This cat shaped earring holder makes a great gift for pet lovers, for occasions like birthdays, mothers day and holidays!
---
Primitives by Kathy Coaster Set
Set of 4 durable stoneware coasters, 4 Inch square coasters suit any size glass – wine, cocktail, or coffee cup; includes a convenient wire holder for storage.
---
Tooarts Cat Shaped Wine Holder
It is not only a common wine holder, it can be used for home decoration. With the high quality and environmental painting technology, it will not peel off paint won't rust.
---
TOP-HILL Cute Ceramic Cat Shape Spoon Rest
Ceramic material, smooth and easy to clean. Creative arm surface design, except for the spoon, the same time it is suitable for the rest of chopsticks and Smaller lid.
---
Cuteforyou Cat Shaped Ceramic Succulent Cactus Pots with Bamboo Stand
With a hole on the bottom of the vase, which makes it better to breath.
---
Hollypet Cozy Cat Shape Cave Nest/Cat Bed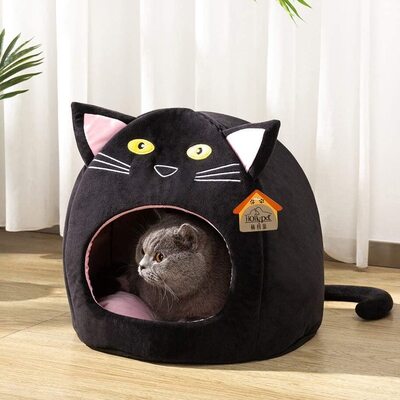 Comfy, warm and cozy cat bed, your cat can enjoy in cozy nap. Also, looks cute as home decor.
---
TOPKITCH Cactus Cat Scratching Post
Without going outside, your kitten or cat can enjoy the same fun of playing and relaxing on the tree! More vivid and durable, born for becoming your cat's love.
---
ChezMax Cat Pattern Decorative Throw Pillow Cover
Beautiful pattern on the front side, multiple pattern choices.
---
wall26 3 Panel Canvas Black Cat Wall Art
The high-quality canvases material is a fancy mixture of quality cotton and polyester, specially created for a long-lasting display of artworks.
---
DEKADRON Geometric Metal Wall Art in the Shape of a Cat
This type of mounting makes the artwork look like it's floating which creates an interesting drop shadow and 3D effect.
---
Ukey Cat Shaped Wall Clock with Swing Tail
Made of eco-friendly acrylic, high glossiness and fastness. The cat tail pendulum will swing side to side.
---
HiChen Cute Cat Design Woven Cotton Rope Storage Basket
Neutral color and cute cat face design of the pet basket is delicate and lovely, which can be a good decoration of your space.
---
Tiita Cat Pattern Bathroom Mat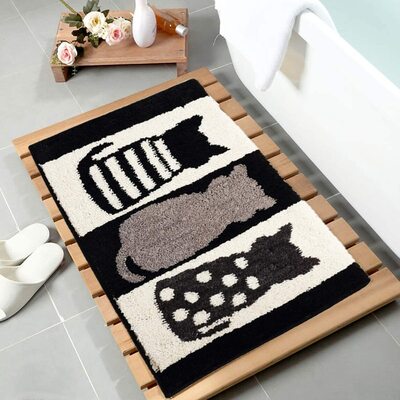 Cute three kittens pattern design make it easy to go with any home decor, and can be applied in bathroom, kitchen, bedroom, living room, door entrances, patio entry ways, beauty care business, pet house, pet rug.
---
Leotruny Cute Cat Pattern Socks in Gift Box
Comfortable, colorful and bright, the best gift for cat mom.
---
Exembe Happy Cat Posture Ring Holder
Stylish rose gold cat substantial the perfect way to store your earrings, necklaces, rings, and more in style.
---
Wall Mounted Cat Scratching Post by THUNDESK
THUNDESK cat scratching post is made from the finest quality natural woven sisal and solid pine wood.
---
Oneleaf 2-in-1 Professional Cat Grooming Comb
Reduces shedding up to 95%. Stainless Steel, durable and corrosion-resistant. Enjoyable for You and Your Cat.
---
Pearl Cat Earrings
Cute Cat Design, Perfect for Women and Girls, looks very pretty and comes in Gift Box.
---
Cats Make Life Better Picture Frame
Self-standing photo frame, perfect gift for some those who wish to show their love of cats.
---
Cat Themed Decorative Cotton Kitchen Towels Set
Do you know a cat lover who likes to spend time in the kitchen cooking or baking? Set of 100% cotton towels make a wonderful gift idea for cat mom. They are more than just decor eye candy; they are very powerful cleaning aides too. This cat towels is sure to make that kitchen work even more enjoyable.
---
Double Cat Feeding Bowl with Raised Stand
The cat food bowl and water bowl 2 in 1 in large oblique rim reduces cat food dropping and is suitable for flat-faced cats.
---
Cute Cat Refrigerator Magnets
These super cute magnets are perfect to be used on fridge door, cabinet, office cubicle. The pattern on the front is extremely lifelike.
---
Laser Light Cat Toy
The running laser dot draws pets attention, stimulate the hunting nature of cats, just like hunting mouse/mice. When cat owners are busy, the toy is the best playmate for cats.
---
Ebros Ceramic Cat Cookie Jar
This Cute Cat Cookie Jar is made of high quality ceramic, hand painted and polished. Cat-theme cookie jar make a wonderful cat lover gift. It's fun and practical at the same time. Besides, a cat cookie jar can be used to store human treats as well as cat treats or food.
---
Tooarts Metal Cat-shaped Sculpture for Home Decoration
The paint keeps it stainless, and the spiral metal bar is beautiful and makes fun decoration. This Cat-themed home accent make out-of-the-ordinary and practical cat lover gift.
---
VP Home Cat Outdoor Wind Chime
Enjoy the soft relaxing tones of these harmonic windchimes. Excellent design and quality craftsmanship. This garden windchime will definitely add a touch of feline beauty to your garden. This also makes a unique present.
---
Cat Paw Soft Silicone Cute Mouse Pad
The mouse pad features a comfortable gel-filled wrist rest to reduce fatigue and pain. Provides the all-day comfort and ergonomic support computer users need.
---
Futurino Women's Funny Cat Print Long Sleeve Hoodie Pullover
Relaxed, comfortable classic fit, this hoodie is perfect for leisure, outdoor and casual. Must-have for any cat girls. This Cat inspired sweatshirt hoodie make fun and affordable cat lover gift.
---
Angelice Home Cute Cat Mug with Stainless Steel Spoon
Elegant cat design, cute, smooth, easy to hold. Capacity 380ML, suitable for hot and cold drinks. Very, very cute gift for cat mom.
---
Cats are very popular pets meaning that you'll have no trouble finding the perfect gift for the cat lover in your life. Treat your cats, treat yourself, and treat your friends to wonderful, practical, and essential items for the cat lover in all of us…