Each dog we share our lives with is unique, with their own personality and temperament and , of course, each dog has its own interests and preferences in games and toys.
Interactive dog toys are always made of harmless and strong materials. Interactive dog toys can be used not only for playing, but also as a sports equipment to keep your pet in a good physical condition.
How To Choose The Best Interactive Toy For Your Dog
Due to the growing popularity, interactive dog toys occupy more and more shelves in the pet supply stores. But how to choose a suitable toy for your dog specially among the wide range of interactive dog toys?
If your dog loves to pull out of your hands different subjects, the best choice is special rope or ring. Or maybe you are happy owner of a hunting dog and the perfect toy is the one that resemble a duck with squeaker inside.
There are toys that are designed for interactive playing between you and your dog: balls, flying discs and ropes. Dogs love to play with people, and with these interactive dog toys you can play for hours:
Balls and Flying Discs
You are, certainly, familiar with the traditional game of throwing wooden sticks found on the ground for a dog and a dog bringing it back. Vets say that such wooden sticks could lead to serious injuries from splinters and sharp points.
For your dogs health it is better to use special interactive dog toys, such as dog balls, flying discs, throwing sticks made of natural rubber, nylon etc. Interactive dog toys are perfect for interactive playing, tossing and tugging.
Flexible design of these interactive dog toys is gentle on your dogs' mouth, teeth and gums. Balls should be small enough, so that dog could catch it and hold it in the mouth, but not so much that it can be swallowed.
Ropes for Dogs
Ropes are ideal for exercise-fetching and interactive playing. You can fling it, throw it or use for tug-of-war games. These interactive dog toys are perfect for toss and fetch.
Ropes often have rubber or latex chew toys or balls beaded on them, which promote healthy teeth and gums. Regularly inspect interactive dog toys for wear and tear. Rope must be replaced if they become much disheveled.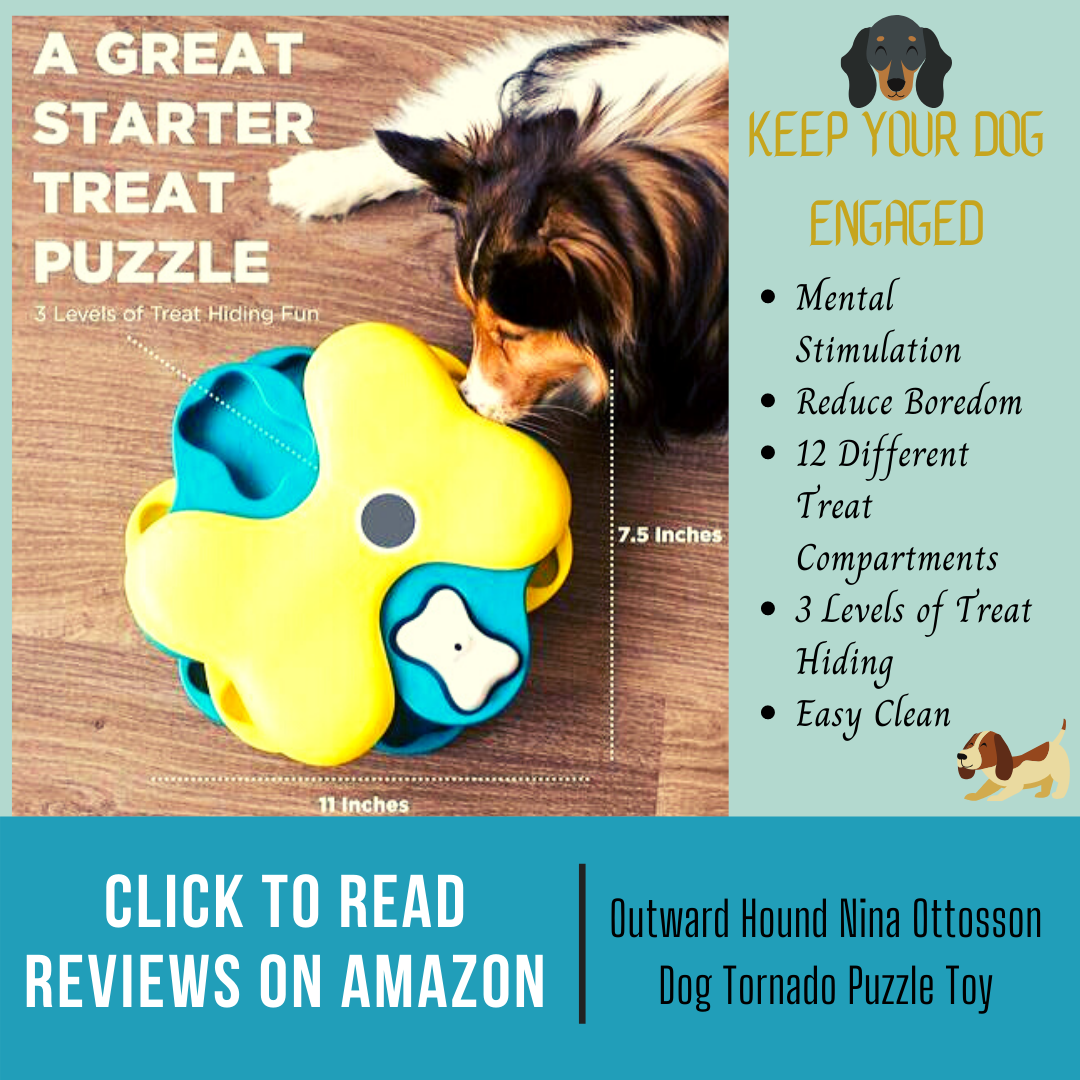 Indoor Dog Toys
If you dog has to spend a good portion of it's day home alone, try to find a way to occupy her time. The following interactive dog toys are made specially for this purpose:
Food Puzzle Toys
Food puzzle interactive dog toys actually are durable containers made of plastic or high-quality rubber with special holes on the sides. You should place treats or food inside it, so dog should work by pawing, shaking, rolling and nibbling the toy to get the favorite food.
Dogs always enjoy the process and it is a great fun to watch them playing. But interactive dog toys are not only a great entertainment, it is also good training for your dog. This activity requires patience and problem-solving skills as well as strength and agility.
Interaction with toys activates the brain, trains memory and supports your dog in a good shape. You dog will learn new skills and a variety of actions and movements with interactive dog toys – pulling, pushing, lifting, flipping etc.
And that is very important interactive dog toys save your dog from boredom and behavior problems.
Puzzle Interactive Dog Toys
Puzzle interactive dog toys help the dog develop problem solving skills. There are different levels of difficulty so that you can cater to your dog's abilities.
There are two main types: treat dispensing and hide and seek.
Treat Dispensing Dog Toys
With the treat dispensing type, the dog has to figure out how to get the toy to dispense the treat. You can also use this as a way to get dogs interested in eating their kibble or as a way to prevent the dog from eating their kibble too quickly.
Hide and Seek Dog Toys
With the hide and seek type, little plush toys with squeakers are hidden inside the main toy. The dog must figure out how to get the squeaker toy out of its hiding spot within the main toy.
Motion Activated Dog Toys
Motion activated interactive toys for dogs make sounds to keep the dog engaged. Some also include flashing lights. This type of toy makes dogs think that the toy is alive and trying to play with them.
Chew Toys
All dogs love to chew, so it's important to provide safe chew toys to discourage destructive chewing behavior and redirect it to appropriate items designed just for dogs. Chew interactive dog toys keep dogs jaws strong, teeth clean and the dog busy.
Chew or dental interactive dog toys come in a variety of shapes and sizes (mini, small and large). So you'll easily find one specially for your dog.
Make sure that an interactive dog toy is durable enough to prevent your dog chewing off little pieces. Small bits can be swallowed whole, presenting a serious choking hazard.
Fantastic Ways to Keep Your Dog Entertained
Interactive dog toys are becoming increasingly popular among dog owners as a way to keep dogs busy as well as entertained.
A lot of our canine friends, even those who seem very serious and stern, or those of which are working breeds, will find it very hard to resist the urge to go and play especially with their owners and the rest of their family members.
Just like us, our pets also want to spend a lot of time trying to relax, and enjoy being active and playful time. There is nothing more they could ever want to have during an activity, aside from treats of course, than playing with interactive dog toys.
These toys are all considered interactive dog toys because the dog has to do something to make the toys work. These types of toys for your dog keep them stimulated and also keep them entertained for longer.
Dog toys are becoming more than just boredom-busters; they are actually considered to be very helpful tools that can be used by dog owners to help increase the bond between their pet.
In fact, there are so many benefits that you and your dog can enjoy when you are both playing together with interactive dog toys.
Firstly, these kinds of toys help a lot in regards to giving your dog the exercise and level of physical activity that they need each and every day; this helps your dog stay fit and healthy at the same time.