One of the great benefits of owning a cat is that they generally do not need any special grooming procedures done by the owner. Unlike dogs, cats will use their tongue to wash themselves. Cats do this self-cleaning several times every day to keep their fur shiny and dust-free.
However, do not ignore giving your cat a good brushing now and again because they absolutely love the tingling feeling of being massaged.
Brushing Your Cats During Shedding Season
As a cat owner, you may want to consider extra grooming important, especially during the times your cat is shedding heavily. A technique that I personally use involves working the cat's fur with a brush and a moist latex glove. I brush with my left hand and then I use my right hand with a moistened glove to stroke the cat's fur and collect the loose hairs.
Just doing this procedure once will surprise you at just how much loose fur will be removed. These loosened hairs are ones that your cat was unable to remove with her tongue.
A Great Time To Check For Fleas & Ticks
One of the best opportunities to find those itchy fleas and clingy ticks is when you are brushing your cat. If your cat is a free roamer and spends a lot of time outdoors then he will probably pick up quite a few ticks along the way. Once you find these parasites during your brushing procedure, they can be removed by a little dab of special tick fluid (which can be found in most pet stores) or for a home remedy you can use salad oil.
After you have applied the liquid then twist the parasite carefully with a pair of tweezers. Instead of tweezers you may also use a pair of "tick pliers" (these can also be found in most pet stores). Be very cautious about not leaving the head of the tick still embedded within your cat's skin. This will lead to major irritations and possibly infection.
Ticks may be picked up less frequently than fleas will so it is best to always be on the lookout for fleas within your cat's fur. Fleas must be combated on a regular basis (especially for outdoor cats). Fleas are major carriers of worm eggs and diseases and they are the toughest parasites to get rid of over the long term.
If your cat does have a problem with fleas then it is best to go directly to your veterinarian. He will have a choice of products for you to choose from. These flea treatment products may come in the form of soaps, sprays, sticks, powders, and dips. Your veterinarian will also lay out a treatment procedure for your cat to follow as well as a worm check.
Simple Remedies to Get Rid of Cat Fleas
Even if your cat is scratching a lot or not, you can't be entirely sure that your beloved pet is free from cat fleas. Follow these simple remedies to get rid of cat fleas.
Bathe the cat in a flea shampoo. Look for an effective, heavy-duty flea shampoo. These contain insecticides that can kill cat fleas. Make it a habit to bathe your cat in it at least once a week.
Use a flea comb for regular grooming. Flea combs can remove 10-50% of fleas on your cat. Before starting, put some petroleum jelly onto the teeth of the flea comb to make it easier for the fleas to stick to it. Then, place a bowl of water mixed with some detergent close to you. Each time you run the comb through your cat's hair, drop the fleas into the bowl. The cat fleas will drown. Make it a habit to use a flea comb on your cat for regular grooming.
Wash the cat's bedding. Every 2-3 days, immerse your cat's bedding in water and color safe bleach. Wash the bedding and hang outside to dry.
Clean surfaces and furniture your cat has access to. If your cat roams around freely inside the house and sleeps on surfaces like tables, shelves, and countertops, or even the sofa, always clean these surfaces and furniture. Spray them with an anti-flea formula that contains an Insect Growth Regulator (IGR).
Vacuum the house daily. Go over the entire house and vacuum carpets, floors, and upholstery. Vacuum your cat's favorite spot at least twice a day. Dispose the vacuum cleaner bag immediately.
Cat fleas are a nuisance and can cause harm not only to your beloved pet, but to your home and health as well. Nip the problem right in the bud before cat fleas spread to every corner in your home.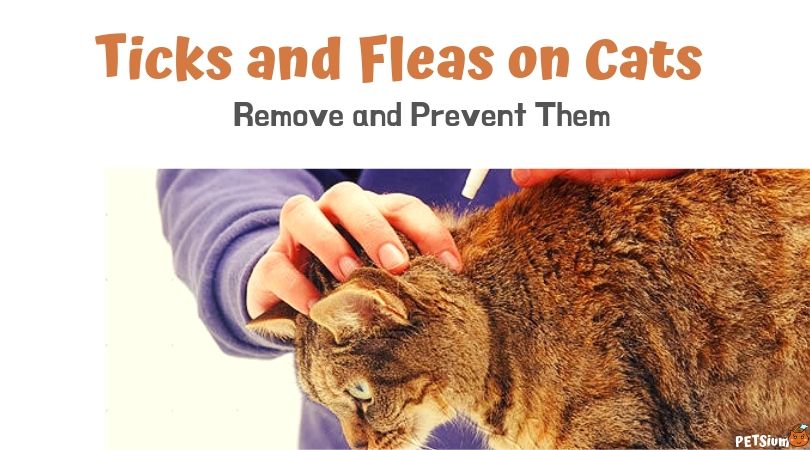 Ticks on Cats – Remove and Prevent Them
Cats are so low to the ground it is easy for them to pick up a tick or two on their adventures. These ticks can dig in for the ride too. They stick their little heads under the skin to suck the blood for nourishment. The ticks on cats can be a problem though that has to be dealt with. These ticks will have to be removed for the health of the cat. You see ticks are great at spreading diseases.
Lyme disease
One disease they can spread is Lyme disease. If a tick is allowed to be on the cat too long it can develop this disease. This is a bacterial infection given to the cat by the ticks. Luckily you can't catch this disease from your cat only from the ticks.
See the ticks get on wild animals like deer and mice that have the bacteria, Borrelia burgdorferi, which cause the Lyme disease. Then the ticks have a nice meal of blood from these animals. The ticks then jump onto the cat and bite it. This gives the cat Lyme disease.
Symptoms for Lyme disease are not bad in cats as they would be for you. You need to look for the following symptoms in cat when they have this disease: lameness, arthritis, joint swelling and pain, lack of appetite, fever, swollen lymph nodes, lethargy, dehydration, and in real severe case kidney failure could occur.
So you can see why it is so important to remove any ticks from your cat quickly. If you have not done this before you are probably wondering how to get these clingy creatures off safely.
A Method for Removing Cat Ticks
Now if you are too squeamish to remove the tick yourself you can make a trip to the veterinarian to get it removed. This could cost you some money though that you may not want to spend. Instead grab your plastic gloves and your tweezers. You grab the tick on its head right at the skin of the cat. Gently pull to extract the tick from the skin. You don't want to pop the tick's body though this could cause bacteria to get into your cat's system through their skin. Make sure to get all the head of the tick out too.
You can kill the tick by with a paper towel but not your bare fingers. Throw the tick in the trash afterwards. Remember do not touch the tick bare-handed at all. If you do not want to go through this removal process all the time do something to prevent the ticks from getting on your cat.
You can use preventatives from topically-applied ones to collars. Just make sure all these products are made just for cats. These will keep the ticks and fleas at bay. Also if your yard is a source of ticks you may want to treat your yard with a preventative safe for cats. You can protect your home by treating it too. Just make sure your cat is not present at the time. The ticks on cats can be a problem but hopefully now you understand how to handle it better now.