Just like humans, dogs can suffer from allergies.
Symptoms in dogs may include gastrointestinal upset, itchy skin (ears, face, feet and underbellies), hot spots, and chronic ear infections.
Obviously these symptoms can cause your dog a great deal of discomfort so it's important to isolate the cause.
As a first course of action, your veterinarian may recommended that you switch to a hypoallergenic dog food.
Everything You Need To Know about Hypoallergenic Dog Food
While some food allergy symptoms are the same as those caused by atopy (flea bite allergy) and inhalant allergies.
Changing to a hypoallergenic dog food may help you determine if something in your dog's diet is causing the problem.
There are many potential allergens in normal dog food.
Any of the chemicals, preservatives, or other ingredients used in the making of the food could be to blame for dog food allergy symptoms.
Studies show that certain food substances are more likely to cause problems than others. Beef, chicken, lamb and fish are some of the more common culprits.
If you suspect that your dog's food is responsible for your dog's allergy symptoms, the good news is that you have plenty of hypoallergenic dog food brands to choose from.
Your veterinarian should be able to recommend a good brand but they tend to mark up the price these foods by as much as 40%. You may find it cheaper to purchase the food online after doing some comparison shopping.
How to Switch to a Hypoallergenic Dog Food
If you are planning to switch your dog's diet to a hypoallergenic dog food, do so gradually to avoid upsetting your dog's stomach.
However, if your dog currently eats a wet dog food, switch to a wet hypoallergenic dog food.
Also, if your dog eats dry food, switch them to a dry hypoallergenic dog food.
Ideally you should make the switch over the course of about a week by mixing ¼ new food with ¾ old food at first.
Then, after the first three days of this, change the the mixture to ½ new and ½ old and so on.
Be sure to monitor your dog's reaction to the change in diet.
After this, if you don't notice any changes in your dog's digestion, the switch was a success.
If you do notice problems like vomiting or diarrhea, contact your veterinarian.
If you have successfully eliminated the component of your dog's diet that was triggering the food allergies, your dog's symptoms will be relieved.
A True Hypoallergenic Dog Food
If you suspect your dog may have food allergies, then you have probably heard of hypoallergenic dog food.
This is food that is specially designed to reduce your dog's chance of having an allergic reaction to food.
If you search on google for hypoallergenic dog food, you will find numerous brands of foods that claim to be hypoallergenic.
Most of these foods contain unusual protein sources such as duck, salmon, bison and lamb.
This is combined with some form of starch, usually rice or sweet potato.
While these foods can be useful in a food trial to diagnose food allergy, these foods are not hypoallergenic.
A true hypoallergenic dog food is a diet that has a hydrolysed protein source.
This means that the proteins are partially pre-digested which reduces the size of the protein molecule.
The size of these molecules is reduced so small that your dog's immune system cannot actually recognise the protein, which means that it is virtually impossible for food allergy to develop.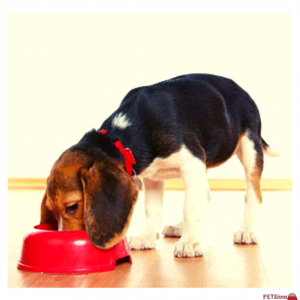 Does Your Pet Require Dog Food That Is Hypoallergenic?
Dog food allergies make about 10% of all types of allergic reactions to which these animals are susceptible.
But it is almost impossible to identify this disorder at its early stage without serious clinical procedures.
The main external symptom is skin itch which leads to skin reddening, scratching and local coming out of hair.
And it is hypoallergenic dog food that will help to get rid of all the symptoms and restore your pet's health.
It is necessary to distinguish between food allergy and food intolerance (dietary hypersensitivity) – the sum total of physiologic reactions which develop as a result the organism's reaction to this or that substance which is contained in dog food.
Clinically it can be revealed as the reaction of the dog's immune system (allergy itself) or as a chemical or toxic reaction (intolerance).
A number of scientific studies have shown that that there are several products that are most likely to cause food allergy.
The most dangerous types of dog food:
beef;
dairy products;
chicken;
wheat;
chicken eggs;
corn;
soy.
It's these allergy incitants that are most frequent in ready-made pet food.
Proteins, lipoproteins, liposaccharides can provoke an allergic reaction.
The reaction to food ingredients is conditioned by their size.
Allergy can be caused by the molecules with mass more than 10 kDa.
In order to select dog food for allergies and to identify to which ingredient the pet's organism reacts it is necessary to place it on a diet with minimal number of components – to determine those which do not cause any reactions.
You can start with a mono-diet and gradually extend the number of consumed products.
How to Prevent Dog Food Allergy
It is possible to prevent dog allergy by balancing its diet.
The best hypoallergenic dog food is the one that consists of components that rarely occur in daily food.
It is proved by the combinations which are used in producing food for dogs suffering from allergy.
Hypoallergenic dog food reviews often feature unusual combinations of potatoes with meat (venison or mutton, rabbit or duck) and fish (salmon and carp), rice with eggs, duck with peas.
These dietary and rare combinations can be used for preparing dog food at home.
In this case you risk to worsen the situation by depriving your dog of useful substances that are needed for maintaining activity and keeping your pet healthy.
The majority of diets that pet owners prepare at home contain excessive proteins but lack calcium, irreplaceable fatty acids, many vitamins and other microelements.
But you can use special hypoallergenic food brands for dogs with food allergy: Hill's, Purina, Exclude and so on.
For the production of hypoallergenic foods the method of hydrolysis is used, which allows to split proteins into subcomponents that do not cause any harmful reactions.
Food can be selected depending on dog's preferences (dry or canned food), as well as its size and breed.
A veterinarian will provide you with all necessary information about hypoallergenic dog food.
So remember: using hypoallergenic dog food you will not only prevent the development of allergic reactions but also avoid many diseases connected with decrease in immunity.
Signs of Food Intolerance
The most typical food intolerance's among dogs include beef, milk, chicken, and eggs.
The majority of these foods is found in dog foods and is proven to be healthy.
Other food allergies can also be found in chemical preservatives which aren't common in dog's food but it may be present in different brands where they use other chemical preservatives.
Dogs may go through signs and symptoms for example diarrhea along with other bloating if they're intolerant towards the food they're consuming vomiting could also occur.
Skin problems may develop consequently of the food intolerance.
Dogs which are intolerant for their food frequently experience excessive licking and itchiness.
Search for these signs to find out whether you're pet includes a food intolerance problem.
What can be done about food intolerance?
If left without treatment, your pet could be at serious risk with food intolerance.
This is also true in case your dog is going through bloating for example vomiting and diarrhea.
Losing key nutrition is harmful for you dogs health. Most proprietors don't realize the food allergy is available.
If you think that the dog is allergic or intolerant to his food, you have to tackle the issue as quickly as possible.
Start by monitoring his diet.
Try to determine which food he's battling with.
Select a hypoallergenic dog food that's careful in making use of chemical preservatives, artificial tastes, and food coloring.
Lots of people begin to see the problem disappear once they eliminate these aspects.
When the problem doesn't disappear, continue monitoring his diet by excluding the important elements that create most allergic reactions for example beef, dairy, chicken and eggs.
When the problem continues, you will know you haven't determined the issue.
If after several weeks of attempting new hypoallergenic dog dog meals and getting rid of key elements, speak to your dog's veterinarian.
He will help you determine whether your pet is struggling with food hypersensitivity and how to handle it if he's suffering.
He might have the ability to recommend the very best hypo-allergenic pet food available.
In case your dog is going through the signs and symptoms pointed out above, the meals that he's eating isn't saying yes with him.
Purchasing hypoallergenic dog food might be the solution.
Most pet food brands currently have an array of items which are considered hypo-allergenic.
The cost from the hypo-allergenic pet food might be more costly, but it's worthwhile.
The healthiness of your pet will improve considerably once you receive his diet in check.
Hypo-allergenic pet food might be the way to go.
What are the Dog Food Allergies?
Allergic reactions really are a serious issue for most people and therefore are frequently difficult to identify.
Allergic reactions are even harder to identify once the allergy sufferer can't communicate what it's they're feeling.
That is actually the situation when our dogs are afflicted by allergic reactions.
Dog food allergic reactions tend to be more prevalent than people think but frequently go undiscovered because the animal can't inform us there is a problem.
If you think that you have a trouble with something your pet is eating you need to suspect an allergic reaction.
Systems in dogs could be much like humans and can include:
Sneezing
Runny eyes
Scratching or licking
Itchiness
Chronic diarrhea or vomiting
Chronic ear infections
Behavioral changes
Just like with humans, severe dog allergic reactions can result in respiratory system failure and dying.
Vets can conduct some tests to determine what meals your pet is allergic to and may prescribe medication for mild cases.
More serious cases will need that you simply monitor your canine's intake of food carefully to prevent the allergen.
Why Dogs Suffers Allergies?
Like humans, dogs could be allergic to nearly anything.
Certain meals are dangerous to just about most dogs.
Two good examples are chocolate and let's eat some onions. Just a little of chocolate could be enough to kill some dogs.
You will find many such meals that will not be provided to any dog and lists are available online or acquired out of your vet.
Other allergies to meals are not as easy to prevent.
Many dogs are allergic to wheat or grains in general.
This could present an issue since just about all pet food consists of grains in certain form as additives.
Grain is particularly common.
In case your dog is identified having a grain allergy, you will need to be cautious when purchasing out of the box pet food, though you will find grain free versions available.
Surprisingly, some dogs are even allergic to meat and chicken.
Frequently people discover that cooked meat present much more of an issue than raw meat.
Once more, commercial pet food more often than not consists of some form of meat product whether it's beef, chicken, poultry or perhaps equine meat.
In case your dog is identified having a meat allergy, be cautious from the food he has to consume.
Diet for Dogs that Have Allergies
Increasingly more dog breeders have found their creatures do far better on the raw food diet.
The dog breeders frequently feed the dogs only raw meat and bones.
This can be a diet a lot more much like exactly what a dog would eat whether it were within the wild and appears to operate better for his or her digestion.
Lots of people often hear tales about bones seriously hurting your dog if digested.
The fact is that large, raw bones present hardly any danger and therefore are really quite great for your dog.
The issue comes when dogs receive cooked bones, especially individuals from chicken.
Cooking bones causes these to become brittle and splinter.
The splinters can certainly get caught inside a dogs throat and become existence threatening.
Once more, in character your dog wouldn't be eating cooked bone but would dine frequently on raw meat and bones.
Many dog allergic reactions would be the outcomes of a poor, abnormal diet, much like many human allergic reactions.
In case your pet is getting health issues, a great starting point searching for an underlying cause may be within their diet.
Dog Breeds Susceptible to Allergies
There are some dog breeds that are more susceptible to allergies than others.
This is important to know in case you are wanting a dog that has less of a chance of having medical problems.
Any dog can attract fleas and have the same problems these dogs do, but they are less likely to have the extra problems that come with allergies.
Bulldog breeds
Labrador Retriever
Golden Retriever
Dalmatian
Rottweiler
Boxer
Schnauzer
Irish Setter
German Shepherd
Dachshund
Soft-Coated Wheaten Terrier
West-Highland White Terrier
Collie
Lhasa Apso
Shar Pei
Springer Spaniel
Cocker Spaniel